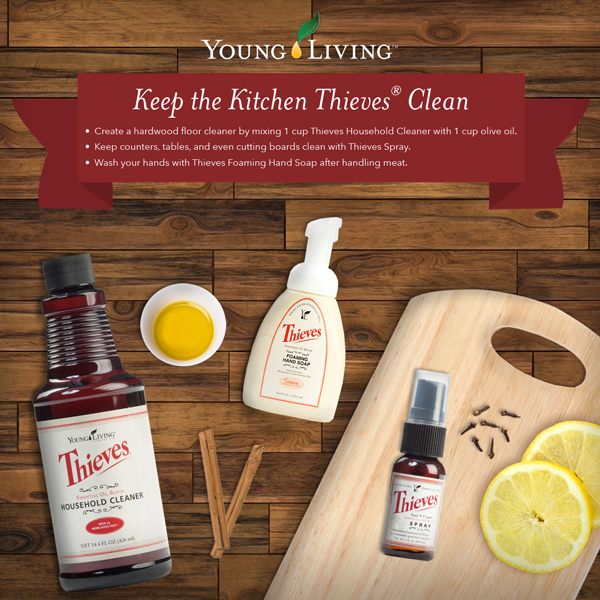 This time of year as the seasons change, we are especially conscious of the need to strengthen our immune systems, and prepare ourselves for the cold months ahead, when we will spend more time indoors. We depend on Young Living's proprietary blend of Thieves Essential Oil to keep us healthy and keep our environment free of toxins.
With the threat of strange viruses and antibiotic-resistant germs, we can feel safe with Thieves. This blend was named after 15th century Thieves who rubbed these oils on themselves during the plague so as not to contract the disease while robbing the dead.  It has a 99% kill rate against airborne microorganisms. We use Thieves Essential Oil on a daily basis in our home and in our practice.
The Young Living Essential Oil, Thieves, is a beautiful and highly effective blend of Clove, Lemon, Cinnamon Bark, Eucalyptus, and Rosemary essential oils.
Some of the Many Ways to Use Thieves
Breathe a drop or two from hands
Diffuse into air at home or office to kill mold
Add 2-6 drops to a small bottle of water and spray to clean counter tops, bathtubs, toilets, sinks, door knobs, etc.
Apply to bottom of feet
Put a drop in a glass of water and drink
Dilute with carrier oils and rub on chest
 The Single Oils Contained in Thieves
Clove
Clove oil is a world renowned anti-septic and is commonly used in today's practice of modern dentistry. Clove supports the immune system. It also supports the cardiovascular, digestive and respiratory systems. It is useful for digestive support, skin support, and joint support.
Cinnamon Bark
Cinnamon Bark oil has powerful purification and oxygenation properties. Cinnamon has a stimulating and toning effect on the whole body and is particularly supportive of the circulatory and immune systems. This oil enhances the action and activity of other oils.
Lemon
Lemon oil is invigorating, cleansing, stimulating and is supports the respiratory  and immune systems. It is commonly used for cleansing and detoxification of our internal and external environment.
Eucalyptus
Eucalyptus oil  supports the respiratory, immune systems  and healthy skin. It is most commonly used and most effective in supporting the sinus and respiratory tissue and functions.
Rosemary
Rosemary oil supports the immune system. It also has a balancing and supporting effect on the heart, cardiovascular, and nervous systems.

Young Living has developed a whole line of products infused with Thieves Essential oil including personal care and cleaning products. We encourage you to check out the oil and the infused products to keep yourself healthy, environmentally toxin free, and support your immune system. For more information go to:  http://daryl.marketingscents.com/
Yours in health,
Daryl D. Weisberg, M.S.