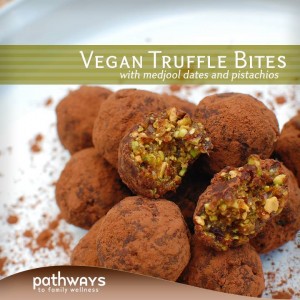 "Sugar dates and pistachios!"
The oh so sweet and gooey taste of medjool dates combined with the salty, nutty flavor of pistachios are a one-of-a-kind combo. Instead of just eating dates and pistachios, I wanted to flare it up a bit, and so we conjured up a recipe that came out to be sorta like a truffle, but the difference here is, all the ingredients are quite healthy for you, and can be eaten at any time of the day.
What are Dates Good For? An article published by Mercola, lists the many benefits of dates; and I never would have guessed there are so many. They are easily digestible, filled with iron, b-vitamins, vitamin A and K, and bind with cancer causing chemicals in your body when ingested; to name a few. They can be mixed with all kinds of things to create tasty treats, like this recipe here, but this combo may just be my all time favorite. What a yummy, and healthy snack. Very easy and fun for the kids and great for an afternoon power boost.
Beware: they are dangerously delicious (you may want to double this recipe). Enjoy!
What You'll Need:
1 cup salted, shelled pistachios
About 14 fresh medjool dates, pitted
1 T melted coconut oil
1 tsp vanilla extract
unsweetened cocoa powder, for rolling (optional)
Note: If you don't want to use cocoa powder, coconut flakes would be great too!
What to Do:
Combine all ingredients (except cocoa powder) in a food processor, and pulse until pistachios are chopped small and mixture becomes formable.
Take small bits (about a golf ball size) of the mixture and roll into balls. Roll the balls in cocoa powder until coated.
Repeat until all mixture is used up and store in fridge.
A very easy (dangerously delicious) and fun recipe for the kids and great for an afternoon power boost. See the recipe on the Pathways to Family Wellness Magazine and the recipe blog.