Herbs & Oils in the Alternative Medical Care of Arthritis: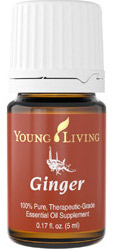 Ginger is another herb that plays a dual role in the alternative medical approach to treatment of all the arthritis, including osteoarthritis, rheumatoid arthritis and gouty arthritis. Ginger is another important herb in the MediHerb Boswellia Complex, which I have been discussing in this blog series.
Oils & Herbs: An Alternative Approach
How It Helps
It is important to improve circulation in the osteoarthritic patient and ginger is a heating, pungent spice which has a direct influence on peripheral circulation.  When you consume a lot of ginger and it is actually hot you will begin to perspire because your peripheral blood flow increases.  Ginger is also independently an anti inflammatory herb and when combined with the Boswellia and Celery Seed herbals you get a synergy that produces a much greater desired outcome.
A Combination of Treatment
At the Seaside Wellness Center in Wilmington, NC we use a combination of chiropractic care for restoration of normal nerve supply and joint alignment and flexibility issues. When an arthritide is involved we combine that care with a regimen of dietary and exercise advice along with the use of herbals such as Boswellia Complex. For additional joint and circulatory support we use Reflexology combined with the Young Living Essential Oils such as ginger.
Dr. John E. Weisberg