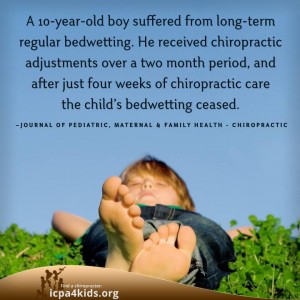 CASE STUDY
Resolution of Nocturnal Enuresis in a 10-year-old Child Following Chiropractic Care to Reduce Vertebral Subluxation: A Case Report
Sara Luscombe, Joel Alcantara, DC, Steven Holmes, BChiro, Kelly Holt, BSc (Chiro), PhD
Journal of Pediatric, Maternal & Family Health – Chiropractic ~ Volume 2014 ~ Issue 3 ~ Pages 55-59
Abstract
Objective: To describe the chiropractic care of a 10-year-old boy experiencing frequent nocturnal enuresis (NE), otherwise known as "bedwetting".
Clinical Features: The child suffered from long-term regular bedwetting.
Intervention and Outcome: The child received instrument assisted and drop table technique adjustments over a two month period. After four weeks of chiropractic care the child's bedwetting ceased.
Conclusion:   This case study adds to the growing body of literature that supports a possible link between chiropractic care and improvements in NE. Further research in this field is required to investigate this potential link.
Keywords: Enuresis, nocturnal, bedwetting, child, chiropractic, vertebral subluxation
Another study of the amazing benefits of chiropractic care. Is your child suffering from Nocturnal Enuresis? Dr. John Weisberg at the Seaside Wellness Center is accepting new patients :)
Subscribe to this research journal and read the full case study here.