Wellness & Alternative Medicine
Each Monday starting on March 2, 2015 at 6PM, CFCC Union Station Room 528, Dr. John Weisberg will present a comprehensive educational series exploring alternative medicine and natural healing and prevention of disease.
For further information and registration call (910) 362-7254 or visit this page.
---
Wellness and Alternative Medicine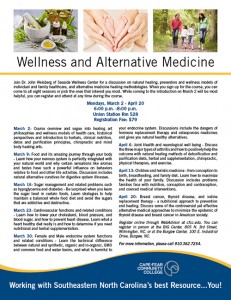 Join Dr. John Weisberg of Seaside Wellness Center for a discussion on natural healing, prevention and wellness models of individual and family healthcare, and alternative medicine healing methodologies.
When you sign up for the course, you can come to all eight sessions or pick the ones that interest you the most. While coming to the introduction on March 2 will be most helpful, you can register and attend at any time during the course.
Mondays, March 2- April 20
6:00 p.m – 8:00 p.m.
Union Station Rm 528
Registration Fee: $79